Super Tropical Water Slide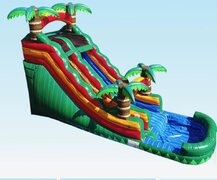 Water Slide Tropical 2Lane Marble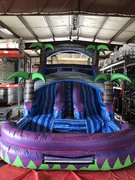 X 402 Fire and Ice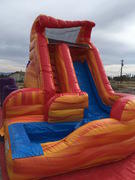 Dunk Tank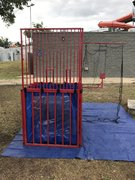 Super Classic Water Slide Tropical 2-Lane w/Slip-n-Dip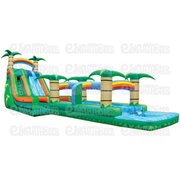 Wet Marble Combo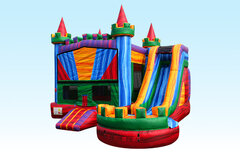 2Lane Rockin Wave Water slide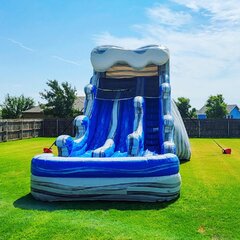 2Lane Red Crush Water slide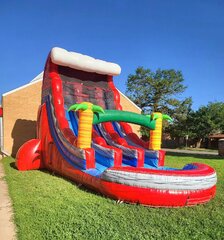 Wet Ultimate Rainbow 2Lane Combo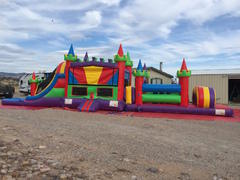 Water Slide Giant 24'H 2Lane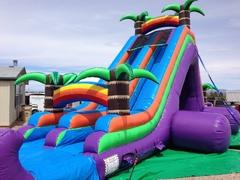 Wet Castle Combo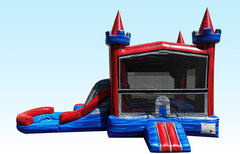 Wet Deluxe 1Lane Combo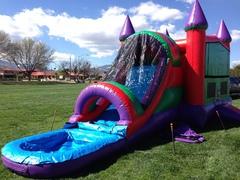 Wet 2Lane Dream Deluxe Combo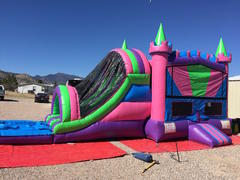 Wet Ultimate Dream 2Lane Combo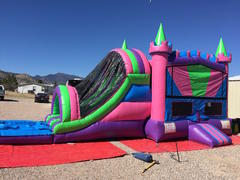 Wet Deluxe Rainbow 2Lane Combo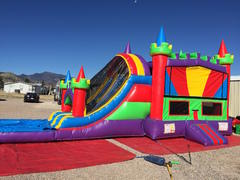 WS Slip-n-Dip Tropical 2-Lane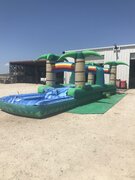 Water Slide Obstacle Extreme 110ft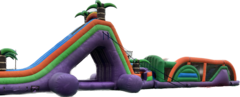 DISCOUNT (AND) ALL NIGHT WS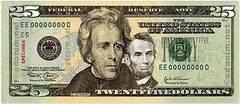 Water Slide Rentals San Angelo TX
Choose the water slide rentals San Angelo TX goes crazy for at parties and events across the area from Jaacked Event Rentals! Our exciting slides will make your party an unforgettable experience for your guests and yourself. We have fantastic wet or dry options that will be the thrilling centerpiece for any celebration, from backyard birthday celebrations and neighborhood block parties to community-wide festivals. Keep your guests engaged and having a blast while sliding, climbing, and bouncing for the duration of your event!
Jaacked Event Rentals is the area's first choice for water slide rentals San Angelo TX kids and parents prefer. Our high-quality, festive inflatable slides, combos, and interactives are trusted the most by party and event planners. We proudly serve San Angelo, Texas, and a wide area of Tom Green County with party rentals that you can count on to keep your attendees entertained and having a great time for countless hours. As your local service professionals, we care about the success of your event, and we leave nothing to chance when it comes to helping our customers host exciting parties for every occasion.
Browse the largest selection of water slide rentals San Angelo TX has to offer from our one-of-a-kind inventory. Whether you're hosting an event at a residence, business, school, or church campus, our top-quality rentals will help make it an unforgettable experience for all who attend! Start browsing our festive options now and place your order in minutes using our online reservation tool. Give us a call at (325) 450-3777 if you need assistance with the scheduling process or simply have a question. We're here to help you throw a fantastic event that won't disappoint!
Fun and Exciting Water Slides San Angelo TX Uses for Every Event
Reserve one of the thrilling water slides San Angelo TX loves to see at events all year from the area's premier party rental company, Jaacked Event Rentals! A fun-packed gathering or celebration of any kind involves one of our blow up water slides San Angelo TX raves about for hours of fun. Our slides, bouncers, combos, and interactives make a birthday party, neighborhood BBQ, or corporate picnic an event to remember. Our wide range of options that focus on festive fun for all ages has the entertainment aspect of your event covered.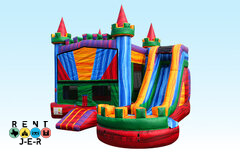 The fun doesn't stop with the water slides San Angelo TX kids and adults use to keep cool when the temperature is high during their special events. Our rentals are always a hit if you need water slides for kids San Angelo TX residents can rely on for a birthday party or a fundraiser for your church group. We're confident we have what you need, no matter the theme, budget, or guest list. Area residents trust our team for all their party rentals, from backyard water slides for adults San Angelo TX uses for graduation parties, company team-building events, or bachelor and bachelorette celebrations. You won't find better entertainment value than with our exciting rentable water slides San Angelo TX uses to take the fun to the next level. Book online for your birthday, school field day, festival, grand opening, summer camp, or other special occasion today!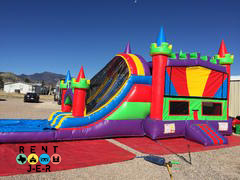 Festive Water Slide Rentals in San Angelo TX for Every Theme and Budget
Choose our water slide rentals in San Angelo TX for top-quality inflatable entertainment at your upcoming event. There is no more cost-effective form of excitement and thrills for your guests than our water slides to rent San Angelo TX partygoers enjoy year-round. Our selection of themes, colors, and age-appropriate options provides entertainment for a wide range of events. If you're looking for cheap water slides San Angelo TX trusts for impromptu gatherings or annual festivals, Jaacked Event Rentals is the area's trusted source for clean, well-maintained equipment that entertains for hours at prices you'll appreciate. Be sure to include our tables, chairs, or the best party tent rentals San Angelo TX has to offer to your cart for the complete party package! Check out a few of our most popular options below:
Water Slide Giant 24': A double-lane slide with a vibrant color scheme and palm trees at both the top and bottom, this monster slide is ideal for larger parties like festivals, field days, and outdoor events. Recommended for ages five and up, this slide is a crowd pleaser, entertaining your guests for hours beginning at $599.
Fire and Ice: This option is an 18-foot-high single-lane with a fiery color scheme. Your guests will have as much fun climbing to the top as sliding back into the pool below. The recommended age group is six to adults, and it begins at a fantastic value of just $209.
Wet Marble Combo Castle: An eye-catching castle house and slide combo geared toward younger party guests. This inflatable has it all to keep them entertained for hours in a safe and well-ventilated unit. Parents have a full view of their kids while jumping, climbing, and sliding—a superior value at $219.
Choose Our Team for Inflatable Water Slides San Angelo TX Kids Can't Get Enough Of
When it comes to event planning, use the inflatable water slides San Angelo TX depends on to deliver fun and excitement to all kinds of celebrations! Trust the local leaders in the industry at Jaacked Event Rentals to help you throw an unforgettable event, no matter the occasion. We are your one-stop party rental company, providing birthday water slide rentals San Angelo TX kids and adults rave about, along with a full line of event rentals, including tents, tables, chairs, concessions, bouncers, and interactives. Take your event to new heights and rent a water slide in San Angelo TX that will entertain and cool your guests with a splash and keep them coming back for more.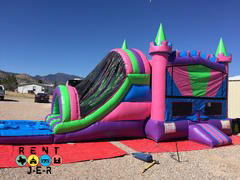 Our locally owned and operated company is known across the area for offering quality inflatable water slides San Angelo TX counts on to be clean, safe, dependable, and budget-friendly. We partner directly with industry-leading manufacturers to provide commercial-grade options for every occasion. Our slides are designed with an inflatable splash pad and a vented awning for protection from the sun. And our event rental options don't stop there; we are proud to offer a wide range of rentals to suit any theme or reason to celebrate, making us the one-stop shop for party rentals for your upcoming event. We've thought of everything, so once you've set your date, click on "Check Availability" and put together your complete party package in minutes. Give our customer support team a call if you have any questions, and we'll help guide you through the process from start to finish.
How to Book Water Slides for Rent in San Angelo TX Online Today
Use our online reservation system to quickly reserve the best water slides for rent in San Angelo TX. Our state-of-the-art system gives you 24/7 access to browse and book your event rentals. You'll love the convenience of our all-inclusive rental options, which allow you to put together an amazing event package while saving you money.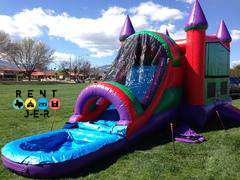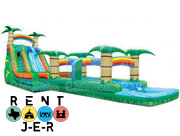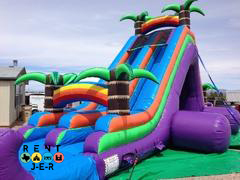 Start by choosing the "Slides" category on our menu bar or by clicking the "Order By Date" button in the upper right corner to search by availability.
Choose the perfect slide for your event or celebration and click the "Add to Cart" button.
Click on your event date using the pop-up calendar and choose your event start and end times.
Enter your town and zip code.
Your event date and time, along with the total due, are displayed.
Click the "Continue Shopping" button and add tables, chairs, tents, concessions, and more, or click "Checkout" to begin the reservation process.
Enter your contact information, the location of your event, and payment using any major credit card.
A confirmation email will be sent along with a digital receipt for your records.
Our team will be in touch to set up a delivery window and answer any questions.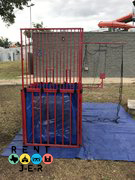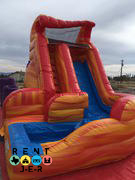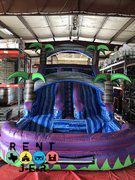 Additionally, we have a variety of comfortable and stylish tables and chairs in San Angelo TX to ensure your guests have a great time at your event.
If you need help reserving water slides for rent in San Angelo TX, or would rather book over the phone, call us at (325) 450-3777 and speak to our party professionals. Our job is to make your event or celebration a success by providing top-quality rentals that you will be proud to have at your upcoming event.
If you need help reserving water slides for rent in San Angelo TX, or would rather book over the phone, call us at (325) 450-3777 and speak to our party professionals. Our job is to make your event or celebration a success by providing top-quality rentals that you will be proud to have at your upcoming event.
Providing Water Slide Rentals Near San Angelo TX and Neighboring Areas
We proudly deliver water slide rentals near San Angelo TX, and to surrounding communities in and around Tom Green County. We are the area's professional party rental company, providing event planners looking for water slide rentals near me San Angelo TX uses year-round with the best options in the region. We have years of experience in the industry and are the trusted local source for everything you need for every party theme, including family reunions, wedding receptions, corporate picnics or appreciation days, school field days, or church functions. Our equipment and service never disappoint! We're happy to offer delivery to Abilene, Midland, Odessa, and Colorado City. If you've been on the hunt for water slide rentals Abilene TX depends on most, we're here to help!
We deliver and set up our water slide rentals near San Angelo TX to the following zip codes: 76901, 76902, 76903, 76904, 76905, 76906, and 75909. We work with the San Angelo Independent School District, providing event rentals for their celebrations and creating a fun and functional atmosphere for area students and staff. Our customers often hold their events at one of the area's beautiful local parks, including San Angelo State Park, Spring Creek Park, Kirby Park, and Unidad Park. While in the area, local landmarks such as the San Angelo Museum of Fine Arts, Fort Concho National Historic Landmark, San Angelo Nature Center, The International Water Lily Garden, and Historic Downtown San Angelo are favorite stops. When hosting a party at a local park, be sure to include all of the party essentials, like a generator, tables, tents, and concessions, in your order to take your outdoor party to the next level. Our online reservation system is open 24/7 for your convenience. It's quick and easy, designed with your convenience and ease in mind. Book online or give us a call today!

NOTE: Extra fees may vary depending on how far you are outside our service area.
FAQs About San Angelo, TX Water Slides
Our customers often have questions regarding San Angelo TX water slides and how they can prepare for delivery and setup at their event. We are here to guide you through the rental process, no matter if it's your first time renting with us or if you're a repeat customer. Our excellent customer support representatives are here to answer any questions that may come up regarding what we offer our customers. Below are a few frequently asked questions for your review. Don't hesitate to give us a call if we can further help you plan your event in a stress-free more enjoyable manner.
Q.
Should I unplug the inflatable slide when our party is over?
A.
No, keep the unit inflated. When our team arrives to pick up the unit, it must be inflated, set up, and in working condition. We perform a quick inspection of the adult water slides San Angelo TX enjoys for hours, then take them down. Unplugging and deflating the unit should only be done in severe weather conditions or if the rental lasts the night.
Q.
What surfaces are acceptable for setting up inflatable water slides?
A.
For the safety of your guests and the longevity of our inflatables, setting them up on grass or turf surfaces is ideal. Asphalt, concrete, wood, and mulch are acceptable surfaces for the placement of San Angelo TX water slides. We do not set up on rocks, gravel, or mud.
Q.
Are there special considerations when setting up in a local park?
A.
Yes - Some things to consider when holding your event in a park are: A permit may be required to have your event at a park, and it is your responsibility to acquire the permit if applicable. All city parks require that a generator be used as a power source when you rent a water slide in San Angelo TX for use at a local park. You may provide your own generator or rent one from our fleet of equipment. Contact us for further insight on holding your event at a local park.
5-Stars for Our San Angelo TX Water Slide Rentals
Our
San Angelo TX water slide rentals
receive 5-star reviews from our customers repeatedly. Our inflatable slides, combos, and interactives are a top choice among event planners across the area. You can trust our local company to provide a blow up water slide San Angelo TX uses to thrill and create great memories that last. Take a look at some of our customers' experiences below and schedule a water slide rental online today.
What Customers are Saying
"Had the best experience with this company! Had the equipment up and ready to go way ahead of time. The equipment was clean. The employees who set up and delivered were super professional and courteous. Prices are way cheaper and more reasonable than the other companies around this area. Won't ever use another company again. Highly recommend!"
- N. Bretz
"Booked for July 3rd but got rained out and got a rain check. Re-booked for September 4th. They showed up, found a safe area to stake the Fire and Ice water slide and set it up. The water slide was a HUGE hit!! They showed up promptly to take it down and were very professional. I will rent from them again!!"
- G. Riggan
"Great quality, reasonable prices, and customer service is outstanding. Would highly recommend if you want the job done right!"
- P. DeLuna
Previous
Next