Bounce House Dream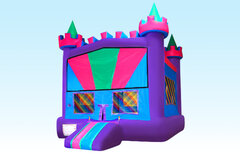 Bounce House Rainbow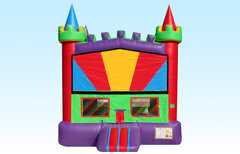 Bounce House Pirate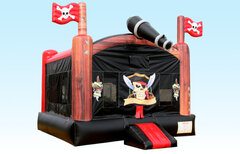 Combo Football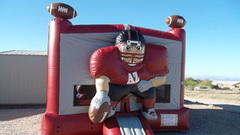 Bounce House Green Castle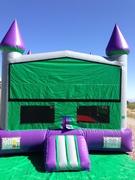 Combo Marble Castle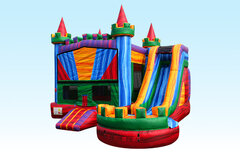 Combo Red & Blue Castle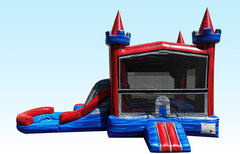 Deluxe Combo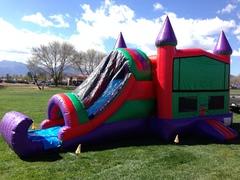 Deluxe Combo Dream 2Lane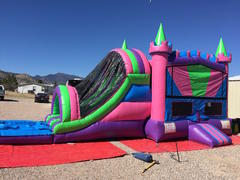 Obstacle Course Castle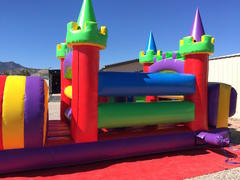 Deluxe Combo Rainbow 2Lane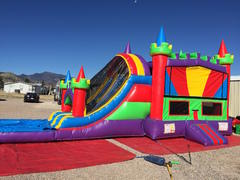 Classic Obstacle Course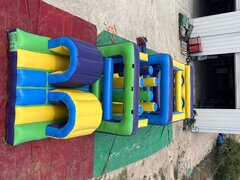 PROMO Air Balloon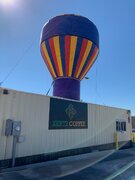 DISCOUNT ( AND ) All Night Discount BH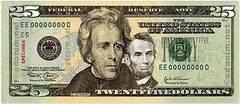 Bounce House San Angelo
Step right up and experience the best bounce house San Angelo has to offer from Jaacked Event Rentals! We take bounce house rentals to new heights of excitement, so get ready to unleash the laughter, the joy, and the bounciest, wildest, most epic parties imaginable! Whether you're hosting a birthday party in your backyard or a community-wide festival at a local park, we have top-quality event equipment that will make your party an unforgettable experience from start to finish.
We're on a mission to make your events absolutely unforgettable with the #1 bounce house San Angelo has to offer. We've got a jaw-dropping selection of inflatable wonders that will have kids and adults alike jumping for joy in San Angelo, Texas, and the surrounding areas of Tom Ford County. From towering castles that transport you to a fairytale realm to thrilling obstacle courses that ignite the spirit of adventure, our bounce houses will bring the wow factor to your celebration.
Our rentals are crafted with the highest quality materials, ensuring a safe and enjoyable bouncing experience for all. We take pride in maintaining impeccable standards of cleanliness and safety because nothing is more important than the well-being of our valued customers. When you choose Jaacked Event Rentals, you're not just getting the top-of-the-line bounce house San Angelo can't party without; you're getting a team of party enthusiasts who are dedicated to making it easy to rent a bounce house in San Angelo TX. We're here to guide you through the rental process, answer any questions you have, and ensure that every detail is taken care of. We're not satisfied until you're wearing the biggest smile at your party!
So why settle for ordinary when you can go Jaacked? Browse our website and prepare to be blown away by the incredible indoor bounce house San Angelo, TX, can't get enough of. We're here to make your party bounce-tastic, adrenaline-pumping, and filled with laughter that will echo in your memories for years to come. Join the Jaacked revolution and let's bounce our way to party perfection!
The Bounce House Rental San Angelo Chooses For All Their Events
Get ready to take your events to new heights of excitement with the bounce house rental San Angelo can always count on! Choose Jaacked Event Rentals' incredible bounce houses for never-ending fun and festivities. Our versatile rentals are perfect for a wide range of events, ensuring non-stop fun and laughter for all. Whether you're planning a birthday extravaganza, a community festival, a school carnival, or a company picnic, our inventory has the bounce house rental San Angelo knows is the ingredient for a memorable gathering. Watch as kids unleash their boundless energy, bouncing and giggling with pure joy.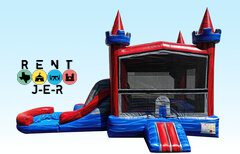 Our bounce houses are also great for fundraisers, adding an extra element of entertainment to attract attendees and create a lively atmosphere. From small backyard parties to large-scale events, our bounce houses are designed to bring smiles to faces of all ages. So whether you're celebrating a special occasion or simply want to infuse your event with an extra dose of excitement, Jaacked Event Rentals' bounce houses are the ultimate choice. Let the bouncing begin, and get ready for a party that will leave everyone feeling on top of the world!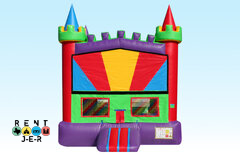 Browse The Bounce House Rentals San Angelo TX Uses Year-Round
At Jaacked Event Rentals, we pride ourselves on offering an incredible variety of bounce house rentals San Angelo TX can't get enough of. Our inventory features a range of themes, sizes, and designs to suit every event and captivate your guests' imagination. From enchanting princess castles to thrilling superhero adventures, our bounce houses cater to a wide array of preferences. We also offer various sizes, ensuring that we have the perfect fit for your venue's space and number of guests. With our diverse selection, you can easily find the ideal bounce house that will add that extra spark of excitement and make your event truly unforgettable.
Those looking for an excellent yet simple option would be inclined to view our Bounce House Dream jumper. This multicolored, 18-foot-high bounce house is excellent for smaller backyard parties and gatherings. The rental price starts at just $129, making it a great, affordable option for everyone!
Anyone interested in a sports-themed bounce house will love our football combo bounce house. This 14-foot-high bounce house features a giant football player in the front and places to jump, climb, slide, tunnel, and shoot hoops. All of these activities are located on the inside of this unit. With a rental price of $129, this bounce house is a great deal for a wide range of events.
Party-goers on the lookout for a good deal will be overjoyed to learn that we also rent out a number of combo bouncy castles, which provide two for one fun. Among other things, we recommend our Deluxe Combo Dream 2Lane. This bounce house is 16 feet tall, has a dry slide, and is big enough to fit three grownups inside. This unit begins at $229 and is the perfect addition to birthdays, graduation celebrations, festivals, and more!
How to Book The Bounce House Rental San Angelo TX Can't Get Enough Of
Prepare for an extraordinary event with the bounce house rental San Angelo TX trusts most from Jaacked Event Rentals. We're bringing you the easiest way to book bounce houses and party rentals online! Experience the transformation from ordinary to extraordinary with our step-by-step guide for online booking via our user-friendly website. Immerse yourself in our extensive inventory of options for the bounce house rental San Angelo TX loves. Discover a thrilling assortment of bounce houses, combo bounce houses, obstacle courses, and more tailored to suit your event's unique needs and preferences.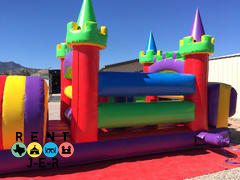 Once you've found the bounce houses that will add fun and excitement to your upcoming extravaganza, check their availability effortlessly using our convenient online calendar. Select your desired date and time, and let us show you which rentals are ready to bring the fun to your celebration. Now it's time to add that extra wow factor! Customize your rental by choosing additional accessories and services to elevate your event. From concession stands to carnival games, we offer a diverse range of options to make your gathering truly unforgettable.
Securing your bounce houses is a breeze with our hassle-free online booking system. Simply provide your contact information, event details, and any special requests you may have. Relax knowing that your privacy is of the utmost importance to us as we ensure the security of your information. Take a final glance at your booking details, ensuring everything is set to make your event shine. Once you're satisfied, simply click the enchanting "Book Now" button and let the magic unfold! Embark on your booking adventure today with the best bounce house rental near San Angelo TX, and let our seamless online platform grant you more time to focus on creating unforgettable moments. Get ready to bounce your way to an extraordinary event with Jaacked Event Rentals!
Delivering the Bounce House San Angelo TX Loves to Your Neighborhood
We're the premier destination for a bounce house San Angelo TX, and the surrounding areas can't get enough of! We take pride in serving a wide range of Tom Green County, including the 76901, 76903, 76904, 76905, 76908, and 76941 zip codes, ensuring residents, schools, community organizations, and businesses throughout the region enjoy our exceptional services.

Whether you're organizing a company picnic, a neighborhood party, or a school function, we've got you covered. We deliver to the San Angelo Independent School District so that teachers and students there can use our exciting party rentals to celebrate special occasions. Looking to infuse your outdoor event with adventure? Look no further! We happily deliver to local parks such as San Angelo State Park, Spring Creek Park, Kirby Park, and Unidad Park. Our high-quality party rentals, combined with these beautiful settings, are sure to make your event one your guests will never forget.

NOTE: Extra fees may vary depending on how far you are outside our service area.
We offer dozens of options for a bounce house San Angelo TX loves to help support events of all sizes. From the San Angelo Museum of Fine Arts to the Fort Concho National Historic Landmark, the San Angelo Nature Center, the International Water Lily Garden, and Historic Downtown San Angelo, our community is filled with wonder and whimsy. Say goodbye to searching for a "bounce house near me San Angelo TX." Whether you find yourself in downtown San Angelo or its surrounding areas, Jaacked Event Rentals is here to provide you with the exhilaration, laughter, and magical experiences that will make your event truly unforgettable. If you're looking for a mix of fun and challenge, explore our collection of combo bouncers San Angelo TX that provide the perfect blend of bouncing joy and adventurous obstacle courses. Let us bring the celebration to you and help you create everlasting memories today!
San Angelo TX Bounce House Rental FAQs
If you have questions about booking a San Angelo TX bounce house rental, you're in the right place! From inquiries about booking procedures to questions regarding delivery areas and setup, we've got your back. Our FAQ section is designed to provide you with clear, concise, and easily comprehensible responses, eliminating any party planning headaches. So, before you dive headfirst into your event extravaganza and ponder where to get a San Angelo TX bounce house rental, take a moment to immerse yourself in our comprehensive FAQ section.
Q.
Can I make changes to my order?
A.
Any changes made by noon two days before delivery will be accepted if there is still inventory available. We will not be able to re-rent the items you no longer need if you cancel or reduce your order with less than seven days' notice, so the full amount of your rental invoice is still due. In the event of a credit balance as a result of adjustments, no refunds will be given.
Q.
What age groups can use bounce house rentals?
A.
Our high-quality, industry-grade bounce house rentals are fun and safe for ages ranging from toddlers to teenagers! If you have questions about the age range for the specific rental you're looking at, feel free to give our team a call for more information.
Q.
Do you offer any discounts for renting bounce houses?
A.
Yes! We offer military, overnight, law enforcement, and repeat customer discounts! Check out our "Discounts" page for more information.
5-Stars For Our San Angelo Bounce House Rental!
The resounding applause from our customers says it all—Jaacked Event Rentals is the go-to destination for the best San Angelo bounce house rental! With ecstatic parents and thrilled event organizers, our positive reviews are a resplendent showcase of our unwavering commitment to excellence and customer satisfaction. Our clients sing praises of the top-notch quality of our party rentals, the exceptional professionalism of our team, and the seamless planning process we provide.

We cherish these positive reviews as a testament to our unwavering dedication to creating unforgettable moments and infusing every celebration with joy. But don't just take our word for it! Immerse yourself in our delightful reviews below and discover why Jaacked Event Rentals reigns supreme when it comes to top-quality San Angelo bounce house rental selections.
What Customers are Saying
"The service and rented items were exactly as promised. Delivery and pick up were also just as promised. It was great to work with a professional company"
- Mikala B.
"These guys made it very simple to book online with the date and time I needed the bounce house and was able to pay online so no need to worry about paying cash the day of our party."
- Carlos D.
"Always great service, items are in good condition and clean, delivery and or pick up hours are convenient, staff is courteous and ready to help."
- Jo
Previous
Next